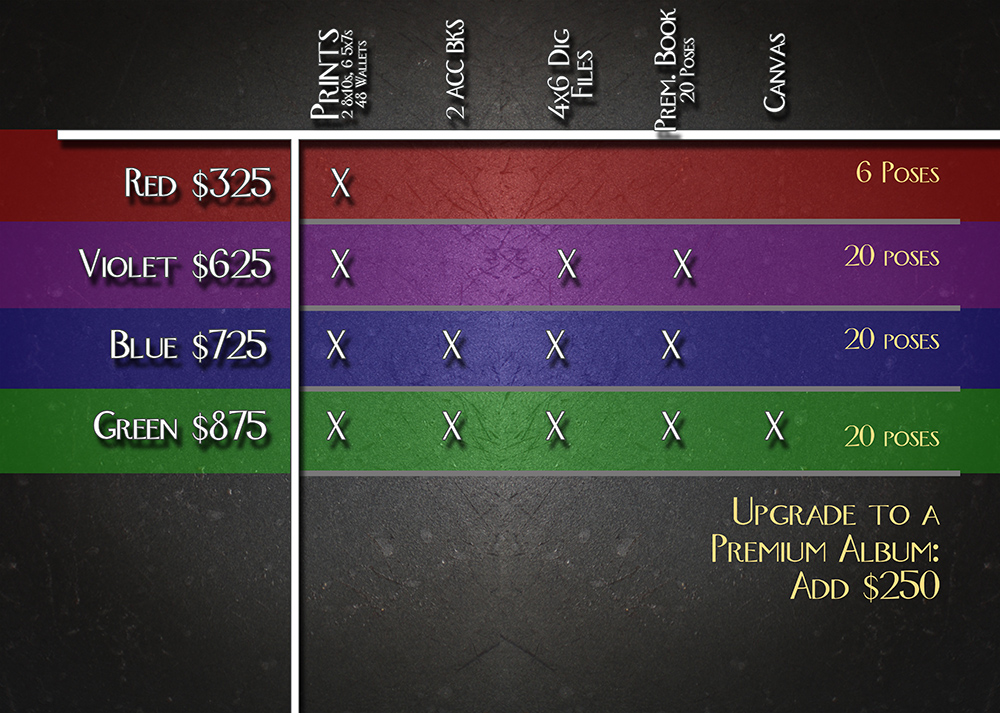 Each package consists of a collection of items:
| | |
| --- | --- |
| PRINTS-- | 2 8x10s, 6 5x7s, 48 wallets. This is the grouping that is requested the most. We can add more if needed. |
| | |
| ACCORDION BOOKS-- | Small, fold-out books containing up to 14 images. These are perfect for moms and grandmas and ride around in purses very well! |
| | |
| 4X6 DIGITAL FILES-- | Packages containing a Premium Book or Premium Album also include 4x6 digital files, which are all the images in the book or album resized to 4x6". These can be used for slide shows, showing photos on phones or tablets, or printing small prints or items. |
| | |
| Premium Book-- | A 6" x 9" layflat book containing 20 of your favorite images. Perfect for when you like lots of photos, but don't have wall space for them all. |
| | |
| Premium Album-- | An 8" x 10" album with 30-40 images in it, made to last 100+ years! |
| | |
| Canvas-- | The perfect piece of wall art. You can pick whatever size you want up to 24" x 36"! |
"Todd is a professional, takes time to draw out his subject's personality traits and really captures "you". His work is exceptional, his pricing is more than fair - you will not be disappointed. As soon as he posted my son's pictures on Facebook - he got immediate feedback from his friends on how great they were. The hardest part of dealing with Todd? Deciding which pictures to order - because they were all fantastic!"
Jackie McIntosh, Ben McIntosh (Bethel High School)
TO SEE MORE TESTIMONIALS, CLICK HERE
Captivating Senior Portraits
The real value in photographic services is located in the person behind the camera. It is not located in the building, not located in the camera, not located in the lens, not located in computer-generated effects, it's in the person who puts the model at ease, helps them find the best poses, brings creativity and vision to the session, and creates images which blow the client away. I treat my portrait clients as individuals and as models, not as the next person on an assembly line going through "pose 1, pose 2, pose 3". We'll have fun, we'll laugh, we'll be excited about the amazing images we create. The entire experience is positive and uplifting.
I call on my 20+ years of experience as an artist to give my personal attention to each and every portrait before the shoot, during the shoot, and after the shoot. You will experience the difference between a "typical" photographer and a true artist with a camera. I personally retouch every image you order, not an employee.
Muskopf Photography, LLC creates compelling photographic portraits in my Beavercreek Ohio studio or outdoors and serve the Dayton area communities of Beavercreek, Bellbook, Fairborn, Centerville, Enon, Dayton, Yellow Springs, Riverside, Kettering, Huber Heights, Springboro, Miamisburg, Jamestown, Xenia, Cedarville, Tipp City, Bradford, Brookville, Vandalia, Cedarville, Clarksville, Covington, Casstown, West Milton, Newton, Clayton, Oakwood, South Charleston, New Carlisle, Troy, Waynesville, West Carrollton, Wilmington and Springfield.